UK Website Manager for Sports Betting SEO
Hey there! Are you our next Leadstar? Take the chance of a lifetime and join a market leading, fast-paced team in the sports betting affiliate industry!
We offer you:
The opportunity to become an expert within SEO and content creation. You will learn from industry leaders
The freedom to develop and try out your own ideas and have passion for your own projects
The prospect to grow within the company and take on more responsibilities
A workplace where Mondays feel like Fridays
What we want in return:
A high level of commitment
An eagerness to learn and to become the best
Smartness and creativity
A positive mindset
Who are we looking for?
We are looking for an English speaking content writer who will write content for a new sports betting site targeting the UK. We prefer if you have lived in the UK for a long period of time.
You have a general interest in internet publishing and are willing to learn new things about content creation on the internet
It's a big plus if you are interested in sports betting and have a good knowledge of sports betting
You are excellent at expressing yourself in written English
It's a big plus if you have previous experience of working with SEO. If not, we expect you to be eager to learn everything there is to know about SEO and to become an expert within the field
You are a competitive person who wants to achieve results and always strives to do your best
You are a self-driven person who likes to try out new things and take responsibility for your own projects
Job description
The position as a UK content writer is a full-time position. We prefer that you are based in Stockholm and work from our office, however, if you are too good to miss out on then you are also able to work remotely from your home country.
Your work tasks will include the following:
Responsibility for writing sports betting related content in English for new websites targeting the UK market
Responsibility to update and organize the content for the UK websites you will be working on
Optimize your websites from an SEO perspective
Optimize your websites from a UX perspective
 About Leadstar Media 
Leadstar Media is a fast growing Swedish start-up company that operates several websites within the sports betting industry. Today the company consists of around 60 employees and full-time consultants as well as several part-time freelancers. We are an international company with around 25 different nationalities represented and a presence in over 25 different geographical markets. Currently, the company's largest markets are Sweden, Germany and the UK. Leadstar Media's ambition is to become the no. 1 sports betting affiliate in the world through organic growth. We believe that the best way to achieve this is by having a tight-knit team of creators with a high level of autonomy.
The office is based in central Stockholm but we have several people working remotely from their home countries. At Leadstar Media you will work together with entrepreneurial individuals who are eager to learn everything about their particular field. You should have the same mindset as the rest of the team!
In addition to work, we organize other activities outside of work-hours such as small events and company trips and kick-offs.
At Leadstar Media you always have the opportunity to grow within the company and take on more responsibility. Several of our team members have taken the step from being content writers to becoming website managers, project leaders or even managing entire geographical markets. The most important skills you need are: an ambition to learn and the ability to take on responsibility.
More information 
Start: As soon as possible
Period of employment: six months probationary employment with one month of notice.
We are looking forward to receiving your job application!
Follow Leadstar Media on Linkedin
Follow Leadstar Media on Instagram
Follow Leadstar Media on Facebook
Department

Locations

Stockholm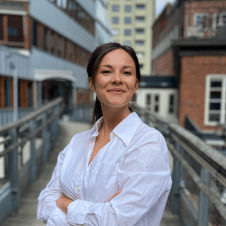 Contact
Alice
HR Specialist – Human Resources
Being a Leadstar
Team Spirit 🌟

A Leadstar is a friendly person who has a winning mentality and alway strives to achieve top results, together with the team. Many of our Leadstars have backgrounds within sports, meaning they are familiar with team spirit. Besides everyday work, we organise activities outside work-hours such as different kinds of events, company trips and kick-offs.

Passion for your work and ownership 🔥

A Leadstar is a person who has the passion for the work. Passion and the feeling of ownership is a strong motivator for our Leadstars.

Passion for learning ✍️

The passion for learning and challenges is a strive that a Leadstar has. Leadstar Media is therefore continuously putting a lot of effort into developing a learning and challenging organisation in order for us to make smart decisions. If you are a talent that has the strive to become a star you should apply to join the team.
Workplace & culture
🌟We believe it's fun to learn and try new things. We have created an environment which is challenging but also fun! As well as working with our products we organise all sorts of activities such as Leadstar parties, watching sports events, arranging internal conferences and attending global conferences within our field. As well as our annual summer kick off! 🌟
UK Website Manager for Sports Betting SEO
Loading application form