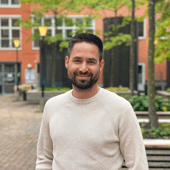 Thomas
French Canadian Junior Team Player / Website Manager – Product
What is your most googled word or phrase?
Best city to visit in Europe in [insert month we're in]
What is the next thing in life you want to learn more about?
Professionally of course it's SEO! Personally I want to learn about Sweden's history. History helps you understand the culture and gives you a different perspective about what's happening now in the present. And I want to know more about my new home country Sweden.
What motivates you to kick start your week at Leadstar Media every Monday?
After 2 years of remote working in Canada, I can definitely say that my motivation is to see my colleagues and knowing I'm going to learn from them each day.