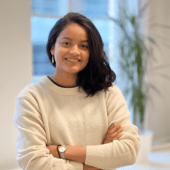 Stefania
Vice Captain – Product
What is your most googled word or phrase?
How not to kill your cactus.

What is the next thing in life you want to learn more about? How to surf, but I first have to learn how to swim, so probably that one.
 What motivates you to kick start your week at Leadstar Media every Monday?
The fact that I know that everyday I get to work among friends that are there to lift everyone up and the daily challenges I get to experience.