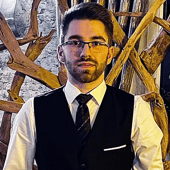 Florian
German Team Player / Website Manager – Product
What is your most googled word or phrase? 
Search engine optimization
What is the next thing in life you want to learn more about? 
Currently there're two things I want to learn more about. The one thing is SEO, because there are so many things to learn about and writing my bachelor thesis about this topic as well as daily work with it gave me the feeling to step up my efforts in it a bit. Second is learning to think like a professional football coach and to understand all processes behind it, because I would like to acquire all coaching licenses in Germany soon.
What motivates you to kick start your week at Leadstar Media every Monday?
The main reason is a great team to work in. Every Monday really feels like a Friday, because working in our team just means a lot of fun for me. That's why I'm always extremely motivated to work for our projects and to start the new week.