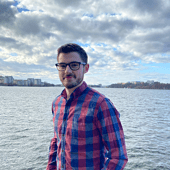 Patrick
Vice Captain – Product
What is your most googled word or phrase? 
It has to be "NBA standings." I'm a huge basketball fan, but I don't have as much time to keep up with the league as I used to. Looking at the standings lets me quickly check in with teams around the NBA that I haven't had the chance to watch a lot of this season.
What is the next thing in life you want to learn more about? 
As a recent transplant to Sweden, I would love to learn more about Swedish history. I love American history and am excited to get to learn about the history of my new country as well!
What motivates you to kick start your week at Leadstar Media every Monday?
I'm a super-passionate sports and sports betting fan. My job here at Leadstar allows me to share my passion with my teammates and our readers!