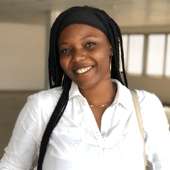 Adebimpe Temidayo
Africa Junior Team Player / Website Manager – Product
What is your most googled word or phrase?
It would be a struggle between 'suggest a food I can eat today' and 'dress styles for busty ladies'.
What is the next thing in life you want to learn more about?
Cinematography. I sure want to learn how to make movies.
What motivates you to kick start your week at Leadstar Media every Monday?
Knowing that I get to wake up thrilled to pursue that job I'm passionate about and learn new things. I would say that the idea of talking to smart people from different cultures and backgrounds gets me super excited.